Fresh, Healthy Meals... DELIVERED
SIT DOWN AND EAT TOGETHER. HERE'S HOW.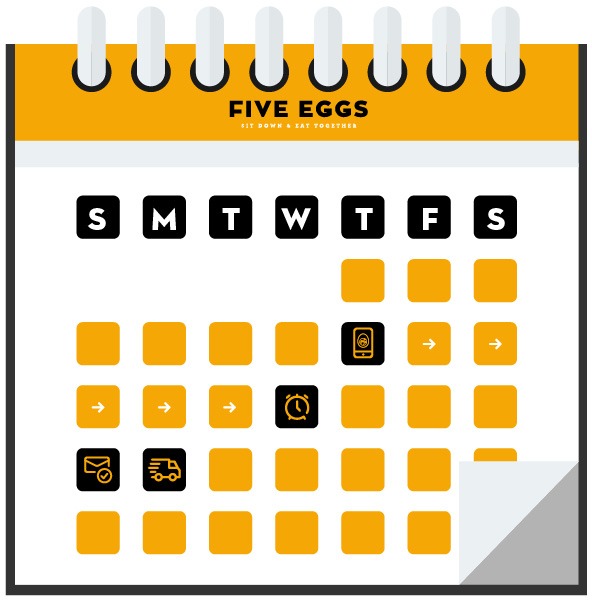 Check delivery area
We deliver all over Colorado, but just to be sure you can check below!
Two Menus. Two Ways to Order.
Weekly Subscription
Meals delivered every Monday, ready to reheat, then eat! You get to pick your meals each week, or have our Chefs choose. No obligation! Cancel any time!
À la Carte
Place an order each week for the meals you want. A great option when the number of meals you need changes from week to week.

"Five eggs meals are amazing! We get to eat gourmet meals with hardly any effort on my part. The food is delicious and the cost is in line with our budget. Do yourself a favor and try Five Eggs Meals!"
"Five Eggs is amazing. The food is fun and unique and always very yummy! We love being able to eat gourmet meals without hours of prep time!"
"The food is healthy and very tasty. I love this service. We are an older couple and it simply doesn't pay to cook for the two of us. This is a great alternative to my home cooking."
"Amazing! Tried my first meal tonight Chicken Pot Pie soup, very tasty and perfect for the weather. Had a hard time deciding what to eat because everything looked so amazing. Very excited to eat the others this week!"
"I am a busy Business Owner that needs easy and on the go type of meals often. I started ordering Five Eggs Meals and was amazed at the portions, the freshness and taste. Locally made, great food, simply packaged for on the go and personally delivered. Can't get better than that, I highly recommend!"